How Delivery Hero Clone App Works
LET'S HAVE A LOOK AT HOW Delivery Hero WORKS WITH A CUTTING-EDGE FOUR STEP BUSINESS MODEL!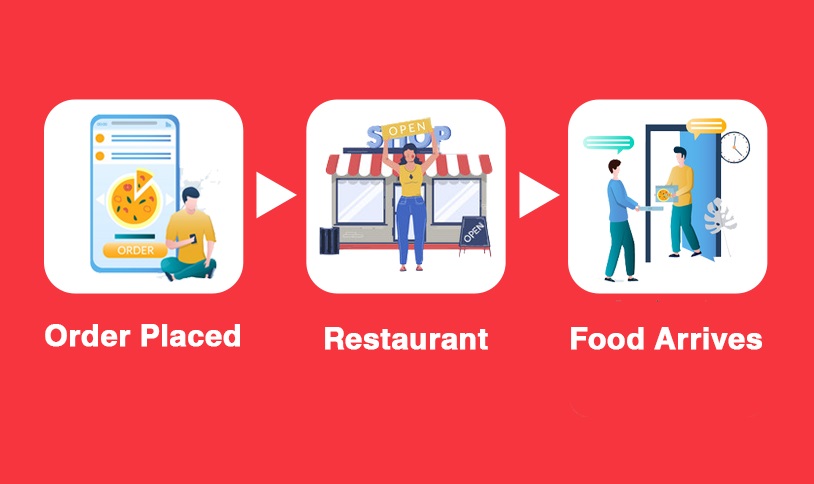 Similar to Delivery Hero Clone app development, we offer an on-demand online food ordering and delivery system for a restaurant business that supports both mobile & web platforms. All you have to do is start taking food orders online with our Delivery Hero Clone. Saving money has never been easier or faster with your ordering system.
With the Delivery Hero Clone, we aim to make things better by granting full access control and also a chance to reinvent their own restaurant business. The delivery hero clone integrates dedicated app support for efficient operations and exceptional and timely food delivery support. It allows the stores to manage their product offerings and menu and cater to customer demands.
The delivery hero clone integrates dedicated app support for efficient operations to provide excellent and on-time food delivery support.
Step 1: Choose Your Food
Place an order of your choosing from the multitude of excellent restaurants listed on the app.
Step 2: Restaurant Confirmation
The choice of accepting or rejecting the order lies with the restaurant, and a delivery person is assigned if the restaurant confirms the order.
Step 3: Food Delivery
The driver collects the order and delivers it to the customer's doorstep.
Step 4: Multi Payment options
Customer could easily pay the amount to a restaurant owner in more ways - Credit/Debit Card, Net Banking, Cash On Delivery, in-app wallet and more.
Step 5: DELIVERY
Placing your order with providing the payment online gives you an instant notification, sent to the restaurant and prepared the food. Prepared food would be picked by the delivery boy and delivered to your doorsteps. You can track your order accurately with the location of the Delivery boy.
Step 6: RATE & REVIEWS
Customers can give a rating of their choice to the restaurant and the driver based on different parameters specified in the review screen.
So, that's How Delivery Hero Works!