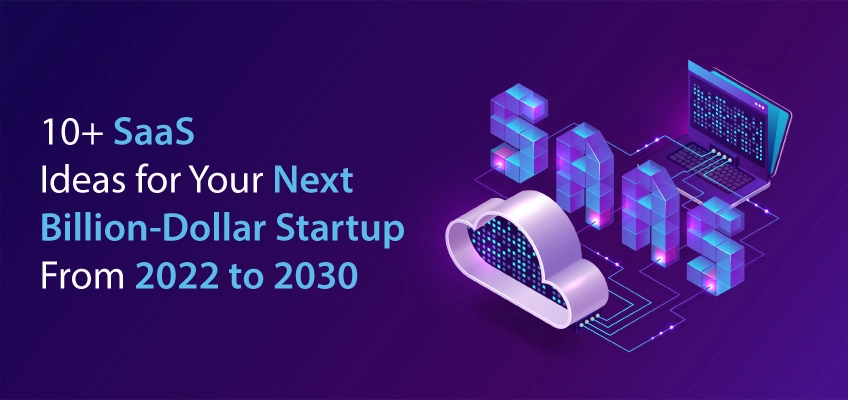 Since the pandemic began in March 2020, the BVP Nasdaq Emerging Cloud Index, which includes 57 top publicly traded cloud SaaS companies, has increased by more than 200 percent.
At this post, the aggregate market value was hovering about $2.4 trillion.
In recent years, there have been a tremendous surge in SaaS (or "Software as a Service") solutions in the industry. As a result, people are attempting to launch SaaS businesses, and the industry has the potential to ensure a high success rate.
But what if you want to establish your own SaaS company? Well, you've arrived at the ideal location. In 2022, we'll be looking into some of the most exciting SaaS product ideas, so stay tuned as we delve into this rapidly evolving field.
What is SaaS?
Simply put, SaaS is a software delivery model that allows users to access data from any device with an internet connection and a web browser.
Software as a Service (SaaS) is a business model for selling mobile and computer programs as a service (akin to a cellular connection) rather than a one-time purchase like a pair of shoes.
Companies that use the SaaS business model sell their software products monthly or annually, allowing them to sell their products regularly rather than on a one-time basis.
Choosing SaaS product ideas in 2022 will benefit entrepreneurs and customers who purchase the plan that best suits their needs from these organizations. In addition, customers get the most up-to-date apps without any additional expenditures, while SaaS firms generate revenue from the same product for a more extended period. It may not have been as necessary a few decades ago, but technology nowadays changes in a couple of days. As a result, if my company's human resource management software is automatically updated, I'll have one less item to worry about in my daily routine.
Why are SaaS products a good idea for Startups?
Software as a service (SaaS) is one of the essential tools that everyone would like to subscribe to, whether they are a corporation or an individual because it is:
A white label product with fully customizable
A low-cost subscription plan with low up-front and ongoing charges.
Cloud-based and available from anywhere in the world. Users do not have to be concerned about the application's security or availability of their data.
Simple to use; all required is an internet connection and a browser.
Top Trends for 2022
You've come to the correct place if you're looking for SaaS product ideas or want to create a new SaaS product for an existing business. Let's get down to business, shall we? Here are 10+ SaaS top trends to consider:
1. Management of a Remote Workforce
Companies used to flaunt their luxurious offices and high-rise structures, but that has changed once we discovered the benefits of remote working as part of an unpleasant pandemic. When it comes to efficiently manage staff from remote places while having the freedom of flexible working hours, remote workforce management services are a no-brainer.
Companies that provide services, such as technical specialists and freelancers, require such programs to manage their time costs and deadlines (to some extent). Who knows, with such a simple product, you could make a fortune.
2. Online Hiring
The globe became a global village around two decades ago, but we have only just grasped the benefits of having people from different cultures and perspectives on the same team. Businesses are increasingly turning to the internet to hire people from all around the world. The demand for employment markets has risen due to this and enterprises' needs following the COVID redundancies.
You can implement these online recruiting SaaS apps in various ways. For example, you can create a website where people can upload their resumes and companies can hire them permanently, or individuals can provide their services on a contract basis. Then, your firm can vet these applicants and offer them to companies looking for skilled workers to complete their projects.
3. SaaS-Based Taxi Software
With a SaaS model, you have only charged once every billing cycle, which can be fortnightly, monthly, quarterly, or even annually. It means you won't need significant money to get your ride-hailing business off the ground.
Clients in the SaaS model can also integrate their SaaS-based taxi dispatch software with other software via APIs. The client's data may be stored in the cloud, locally, or both, depending on the SLA (service level agreement).
4. Team Communication
Communication tools have progressed from telephonic conversations to video conferences, and we now can connect with people all over the world from the comfort of our beds. But this isn't collaboration; it's communication.
Yes, individuals converse and exchange ideas, precisely what collaboration entails.
However, a solution that can also include daily, weekly, and monthly targets, status updates on major milestones, and the ability for teams to collaborate while keeping a record of their discussions is critical. SaaS solutions that include project deadlines, progress updates, and KPI tracking could be the key to becoming a billionaire.
Also Read: Strategies to Overcome the Competition in the Ride-Hailing Business
5. Marketing Automation
Poor marketing is still one of the most common reasons why even unique startup ideas fail. However, you can use this to develop marketing technology solutions for startups. This category is looking for innovative SaaS product ideas that will help with various aspects of marketing and brand advocacy.
Marketing automation software automates the marketing process and tracks the effectiveness of promotional activities.
Many parts of the email, SMS and social media administration are automated using such platforms. Therefore, creating such software is regarded as one of the top startup ideas.
6. Blockchain Products
When we hear the word "blockchain," we immediately think of cryptocurrency, but the blockchain is much more than that. This technology can completely transform the way we prepare, retain, and keep data and documents.
In the blockchain world, an agreement with the client is nearly impossible to tamper with it in any way. However, in a world where businesses are subjected to cybercrime threats daily, your blockchain solution could be just what they need.
7. Learning
Learning platforms are one of the best SaaS product ideas that have begun and will continue to alleviate the curious minds of this load by providing courses taught by highly trained professionals from Harvard and King's College. If you're thinking about starting a SaaS firm like this, now is the time to begin offering e-learning services through your platform so you can profit when these companies hit their peak.
8. Live Streaming
It's time to integrate cloud computing and foreign processing power to live to stream my game across numerous devices and ensure that you get the most excellent possible experience.
Yes, streaming services are available, but the industry's growth potential is enormous, and you do not want to miss out on it.
9. Project Collaboration
Today, remote working and various teams are commonplace, but they require a system to manage their communication and meet their goals. Project collaboration tools are ideal when assigning and relocating responsibilities amongst groups. In addition, companies can use such software programs to keep track of projects taking place anywhere in the world at any time of day and stay up to date on their progress. You might be interested in a piece of this company.
10. Freelancer CRM
You can find many successful SaaS product ideas in 2022 in the freelancing CRM world. This form of software has a lot in common with traditional CRMs. However, there is a distinction between the two methods because freelancers handle all the work themselves. In addition, the on-demand nature of SaaS startup concepts makes them ideal for this domain.
Freelancers can keep track of customer interactions with the help of a CRM. Analytics, email marketing, time tracking, and reporting tools are also available to freelancers.
Why Choose Appicial for SaaS-Based Taxi Software?
Because of their scalability as software, SaaS products can have a fantastic growth rate, yet building effective software can be difficult and expensive.
As discussed earlier, these are successful SaaS ideas for your next startup. For a ride-hailing business SaaS-based solution is such that it can help any taxi startup get success. SaaS is the way to go in today's market, requiring quick, innovative, and technologically advanced. If you're looking for a SaaS-based taxi solution to kick start your taxi business, then Appicial is the way to go. Appicial Applications provides a robust and advanced SaaS-based ride-hailing solution that comes with all the cutting-edge features and state-of-the-art technology.
Appicial also has a team of highly experienced and skilled professionals that can resolve your queries at any time and help your taxi business to grow by providing you with valuable tips and insights. One thing that makes Appicial stand out is that it takes care of your brand image. It's because you can rebrand the Appicial's SaaS-based solution with your logo and branding UI.
It's important to understand that the other SaaS-based solution provider doesn't provide complete branding, whereas Appicial provides its solution with your entire branding. Appicial's SaaS solution will give you the feel of a hosted solution. If you want to know more about Appicial's Applications, you can contact us at any time.
If you require assistance in putting your SaaS product ideas into action, please do not hesitate to contact Appicial. Through SaaS development, we will aid you in placing your new startup ideas into action.