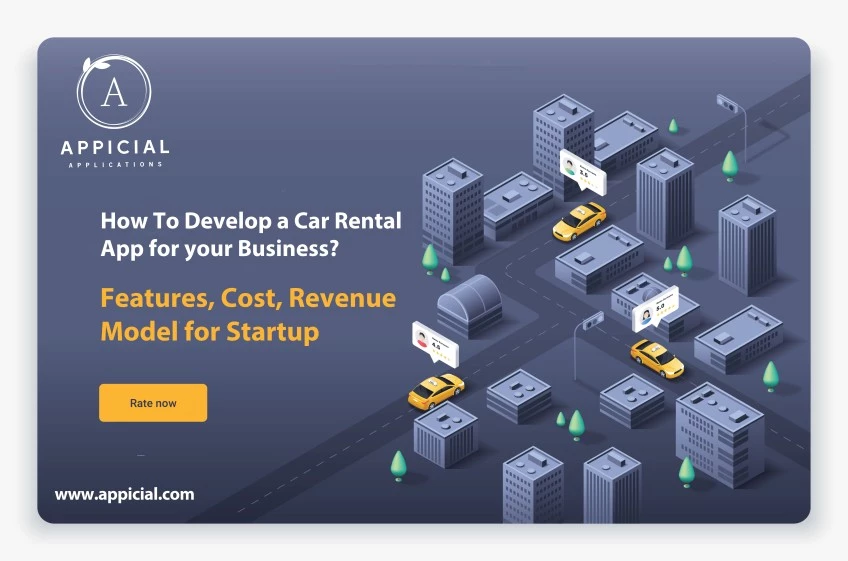 What is Car Rental Busines?
The car rental business is no exception to the impact of mobile applications on the corporate world. Users may now reserve and rent a car in any location around the world using simple online reservation systems and mobile apps.
Travelers may also rent a car and visit the most exciting travel destinations via smartphone apps. These apps let users put their booking orders on the app and receive notifications with information on the car's details and arrival times.
The benefit of the car rental app is that it allows you to book a car rental service from anywhere in the world as long as you have an internet connection. You'll have access to automobile rental services in the zone you're in, and you'll be able to see which one is closest to you. Users develop a sense of loyalty as a result of this.
Isn't it true that no one enjoys taking the bus? Let's take a closer look at the automobile rental market, learn about its quirks, and talk about how to start a car rental app.
Market Cap of Car Rental Industry
The automobile rental sector is not only large, but it is also constantly expanding to meet the needs of its customers. These services have benefited greatly as commuting has become a part of everyone's daily routine. Car rental is a part of the on-demand car rental sector, which is currently one of the largest industries.
Car rental app development services are not just created by large corporations; they are also created by small and medium-sized businesses. Because such applications are in high demand, service providers are attempting to match that demand by offering a variety of services through their apps. Let's take a look at some statistics concerning the global automobile rental industry.
In 2021, revenue from the Car Rentals division is expected to reach $53,333 million.
Revenue is estimated to rise at an 18.5 percent annual rate (CAGR 2020-2024), resulting in a market volume of US$105,285 million by 2024.
User penetration is predicted to reach 7.1 percent by 2024, up from 3.6 percent in 2020.
The ARPU (average revenue per user) is estimated to be US$200.37.
In terms of global revenue, the United States will generate the most ($16,155 million in 2020).
Car Rental App Working
Users and administrators interact with car rental apps in different ways. Let's take a closer look at how the app works for users:
1. Login
The first and most important step, like with most other apps, will send the user to a landing page where he or she will be required to check in with his or her credentials and all of their information. Allowing users to sign up with credentials from any of their social media accounts is the ideal approach for them to get in without spending a lot of time.
2. Multiple cars
A user may have a variety of requirements and would wish to book a car that meets those requirements. As a result, the car rental app development provides them with a diverse selection of vehicles to pick from. This not only provides customers with options but also helps them to make decisions based on their budget and expectations.
3. Choose a vehicle
A user can choose an automobile based on their preferences for color, size, number, and other vehicle parameters.
4. Make a reservation for the car
After the user has chosen a car and model that suits their needs, they can choose a time when they would like to use the service. The app, like call-in services, does not make a user wait for a booking; instead, it makes one for them immediately.
5. Taking care of their reservations
Users of car rental apps can manage their reservations by verifying the time they want to utilize the vehicle.
6. Figuring out the fare
A car rental app has its method of determining the pricing based on the automobile selected and the length of time the user requires it.
7. Online payments
The majority of automobile rental service applications accept online payments and give consumers receipts for their reservations.
8. Notifications
After a user makes a payment, his booking is confirmed via a notice on his device, which includes information about the automobile and the time it is reserved for.
9. Tracking
These car rental business apps give customers a sense of security because they can quickly share the specifics of their car with friends and family, who can track their whereabouts in real-time.
10. Cancellation of a booking
This feature allows the user to cancel a reservation if there are any last-minute modifications to the itinerary. This is one of the most important features of a car rental app.
11. On-time delivery
Users can have the car delivered to their door without having to go to the service provider's office to pick it up. As a result, the use of such car rental apps has become even more advantageous.
Also Read: MARKETING STRATEGIES FOR YOUR TAXI APP BEFORE LAUNCHING
Car Rental App Revenue Model
Automobiles and other luxuries can be rented from vehicle rental companies. There's a reason why this organization assists service providers in making good money and working properly without any problems disrupting their revenue strategy. Let's have a look at the sources of revenue for car rental companies:
1. Car fleet of their own
This one involves the establishment of a huge organization with a significant expenditure on the part of the service suppliers. The company needs to buy cars and distribute them to several drivers. They are compensated for their services based on the customer's base fare. The drivers are paid either on a monthly basis or for each service they provide.
2. Commission-based
This one is a little unusual in that car owners are provided with a platform via one of the car service apps and are compensated for each booking. A percentage of the revenue goes to the app developers. Another option under this model is for car owners to hand over their automobiles to a driver who takes reservations and drives them about town.
Car Rental App features
Here are the features of the car rental app:
1. Payment Gateway
Payments can be concerning if there is a lack of transparency and the actual price differs from the one indicated on the screen throughout the booking process. With so many payment alternatives accessible, such as online banking, debit/credit card, e-wallets, and UPI, it has never been easier for a user to make a reservation.
2. Push Notification
Push notification allows app developers to keep their users up to date on their bookings and the car that will be dispatched for their service. They are also informed of the service's final fee. In the form of a push notification, users can receive information such as any deals or promotions performed by the car rental business.
3. In-App Calls
Users should be able to call drivers or service providers using the app without incurring any charges. This keeps users on the app rather than having to navigate away to switch to contacts or phone calls.
4. Real-time Analytics & Statistics
This allows the administrator to see how many cars have been rented at any one time, as well as the details and location updates for each car.
5. Loyalty Programs
Give your loyal consumers something extra. Offer loyalty programs in which customers can earn reward points that can be redeemed for free services.
CONCLUSION
The domain's major participants have already made the transition to the Internet and are generating revenue through online channels.
You will grow closer to your consumers and gain major benefits by developing a proper application for your automobile booking or rental business.
Appicial is a leading car rental app provider with proven competence and extensive experience in designing solutions for the transportation industry, as well as a unique approach to producing car rental apps for Android and iOS.
Looking out to start your venture like Turo? Try our Car Rental App, the easiest way to kick-start your own Car Rental business.