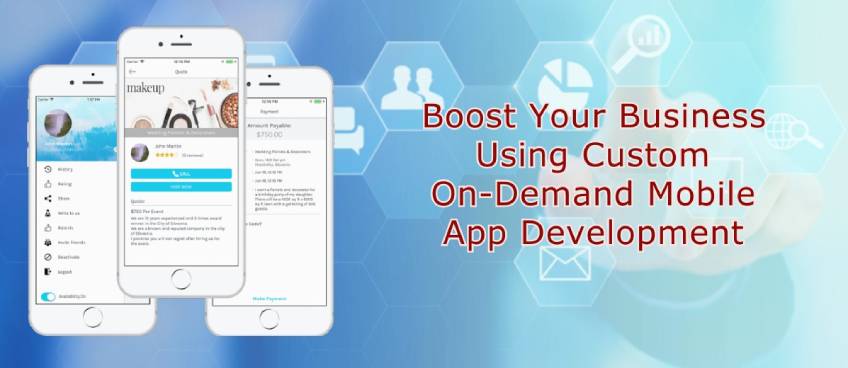 On-demand mobile apps have made lives easy as they let you order most essential services online. You no more have to walk up to the store to buy anything. You can order it using an on-demand app. Any business can use an on-demand app to generate more leads for their business. Businesses from any sector can be greatly benefitted from this app. The on-demand app development comes with customized options.
Service industries, manufacturers, retailers, many other industries can be benefitted using the on-demand app development. When developing a mobile app, please choose the right integration, API, and other technological aspects to make the app flexible to use by various segments using it. It would help if you also came up with a good strategy for pricing to make it convenient for consumers to use. The cost of developing an on-demand development app depends on the features and technology you use to build them.
Any business can be benefitted by contacting an on-demand app development company. You can develop a customized app with features that make navigating and choosing options easy. The most common features available are the payment gateway, push notifications, confirmation, updates, and cancellation requests. You have to perform market research for specific industries to create an app that makes it easy for them to get leads and transact with vendors and suppliers.
Features of on-demand mobile app
User-friendly interface
Tracking, operations, and delivery management
Payment gateway
Daily reports
Security features
Entertainment features
Scalability
Scale Your Business
There are umpteen benefits in developing this business app. When you use an on-demand app development, you can scale and grow your business and get umpteen business opportunities. Without having the technical expertise, you can use this service to get more leads, brand your business, and send notifications of any updates, discounts, and offers. This is one of the best ways to communicate with vendors and customers. You can find unlimited opportunities using this app to connect with anyone worldwide.
Feedback and Reviews
You optimize your business services based on the feedback and reviews. These apps let you connect with customers and vendors across the globe effortlessly. You can increase conversations, generate leads, and build better relations with customers and vendors with this app. If you are looking for generic features developing an on-demand app for your business will be a cost-effective solution.
Tips To Boost Your Business With On-Demand App
Scale Your Business
Your business is open to customers and vendors 24x7. This opens the window to communicate with customers across the world and promote your business and services. Once you create a generic app, you can scale it by adding features as you seek growth in your business.
Customization
Choose an on-demand app development company that provides customization and security features. The company you choose must be able to customize the features without compromising the stability.
Pricing
When you develop an app, you have to choose the price at which users can download and use the app. You have to decide the pricing strategy for services such as door-step delivery, and the price to use the app. Users prefer using mobile apps which are not expensive and come with a lot of goodies. Users do not opt for choosing expensive apps. Choose your pricing strategy carefully before launching an app.
Integrated Tools
Get an insight into market trends before choosing tools and technology integration. There are many upgrades happening in the mobile domain. You have to choose a platform and a host of tools that are suitable for the app and the features you wish to provide. Choose the latest technology or something that has backward compatibility so that users with any configuration of the mobile can choose to use the app at a lower cost.
GPS Tracking
Logistics companies and those who provide door-step delivery service can choose this feature to track the delivery and other services they provide. It helps businesses notify customers of the progress of the dispatch. This feature helps in creating credibility and lets the customer track the order they have placed until they are delivered.
Reports For Customer
You can use this feature to let customers view their previous order and history of all the activities performed using the app. It helps them recollect all the information about the order placed with minimizes confusion. Customers can view the data on their mobile phones of any past activities using this feature.
Multiple Booking
This is one of the features which simplifies the booking process for multiple booking. Retailers will find this feature useful to let customers book many orders within a few clicks. You can make the checkout process smoother for multiple orders.
Maximum Customer Satisfaction
Customer satisfaction and feedback is one of the top reasons to develop an on-demand mobile app. You can optimize business services based on customer feedback and satisfaction. You can provide better solutions based on the feedback and reviews received on this app.
Conclusion
An on-demand mobile app comes with numerous benefits for businesses, customers, as well as middlemen. It speeds up the process of business, generates leads, and lets you retain your customers. You can boost sales and get better conversations and optimize your services with the feedback received on the app and scale your business.