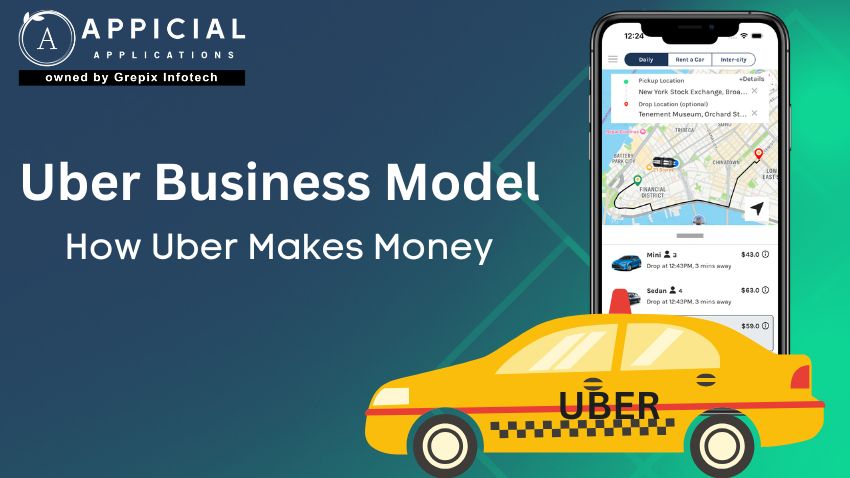 What is Uber?
Uber Technologies Inc. has ruled the world since it is inception by becoming the largest taxi technology company. It provides a 24/7 non-stop on-demand taxi hailing service, which is easily accessible on smartphones. It's headquarters in San Francisco, USA. Although it does not own a single car, it's the world's largest company which has a valuation of more than $50 billion and funds of $10 billion.
Most budding entrepreneurs are quite curious about some of the major questions regarding the on-demand business setup space. Before working on their Uber model of business, their minds are brimmed up with several queries.
Some Facts & Timeline of Uber
CEO : Dara Khosrowshahi
Year founded : 2009
Headquarter : San Francisco, California, USA
Number of Employees (2018) : 16,000+
Public or Private : Public
Annual Revenue (Q2, 2018): $ 2.8 B
Profit |Net income (Q2, 2018): $ -891M
Founded in 2009 as UberCab by Garrett Camp, a techie and the co-founder of StumbleUpon, and Travis Kalanick, who had sold his Red Swoosh startup for $19 million in 2007.
The founders invested $200,000 in seed money in 2009 upon inception. In 2010, Raised $1.25 million from investors and by the end of 2011, Raised $44.5 million in total funding. Till date, Raised a total of more than US$23 billion in private venture funding.
Successful Timeline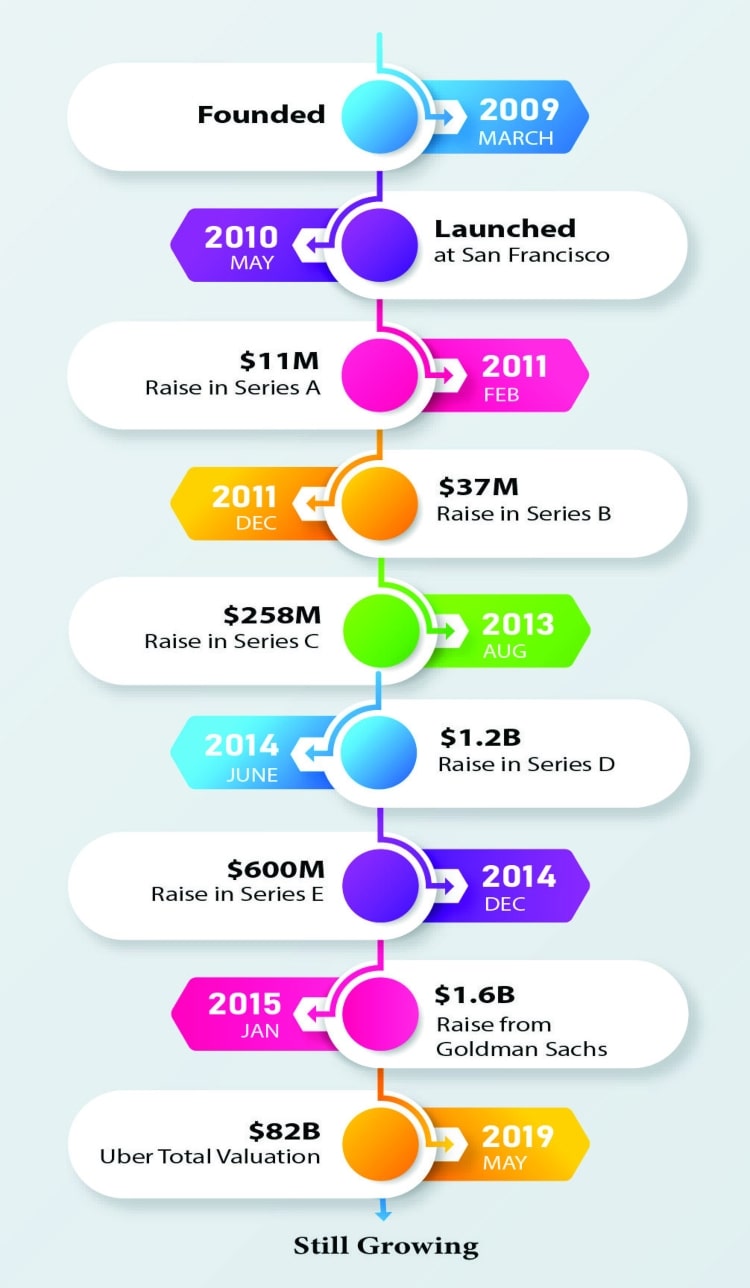 Therefore, in this post, we will dive deeper into this topic to have a comprehensive understanding of setting up an effective business model.
After becoming a successful and popular enterprise, Uber's business model has brought a paradigm shift in the startup economy by fueling the on-demand economy. To create your on-demand startup business model, it is extremely pivotal for you to have an in-depth understanding of the Uber business model.
Let's get started!
Uber Business Model
By generating strong value propositions for both the passengers and drivers, the platform has managed to stay dominated in the world of the taxi/cab industry. Besides, the cost structure, revenue streams, customer relationships, various channels, key resources, and activities are all effectively managed and each one of them holds a pivotal position in the Uber business model.
Core Business
Working as a digital aggregator application platform, Uber endeavors to connect passengers needing a ride with the driver serving them willingly. In technical terms, we can say that 'while passengers create the demand and drivers supply the demand, Uber acts as an effective facilitator or medium to carry out the entire demand-supply process seamlessly'.
How Uber Works
If you have the dominant idea that Uber is just an on-demand cab-hailing service, then you need to change that opinion. Uber has eventually extended its feet into other spheres, such as Uber Eats and Uber Freights, which are on-demand food delivery and trucking platforms respectively. So, what is the core business of ride-sharing in Uber? What exactly is its business model and how does it make money? We are going to discuss all such things in this blog post.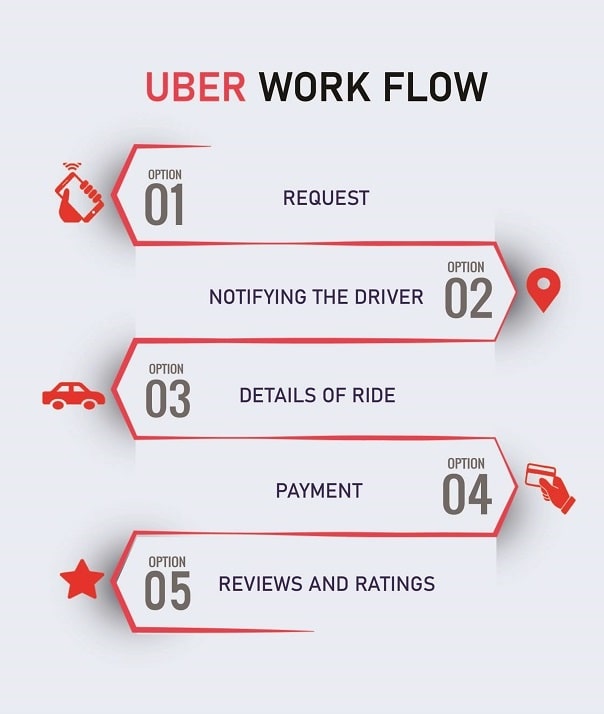 Step 1: Request
Customers open the app for requesting a ride. This includes the selection of car sizes under sub-categories of mini, medium, or luxury.
Step 2: Notifying The Driver
As soon as riders send the request, the taxi app will send notifications to all available drivers in the nearest range. When the driver accepts the rider's request, When a driver accepts a rider's request, the driver's information is sent to the rider.
Step 3: Details Of Ride
Along with viewing ETA, users can also track the entire route from the place of pickup to the destination with a mobile app.
Step 4: Payment
When the ride is complete, riders must pay the full amount for the ride. The taxi booking app calculates prices based on distance traveled and base fares.
Step 5: Reviews and Ratings
Depending on the performance of the drivers, users can provide ratings and reviews in the app. Drivers can also rate their experience with their customers.
Uber Revenue Model : How Uber Makes Money
Although Uber primarily makes money by cutting on each ride from the drivers (either shared or individual), a detailed analysis of Uber's business model shows that Uber's revenue stream is much more complex than it seems. So, let's know how Uber makes money!
1. From Commissions
Whatever payment is given by the passengers through the app, it gets transferred to the partner's account only after taking out some amount of commission for doing the job. The commission rates depend on the market and can vary from 15-30%.
2. From Premium Rides
From budget-friendly hatchbacks to luxurious SUVs and sedans, Uber endeavors to provide convenient multiple ride options for the customers. If we talk about the premium rides, the profit margins are much higher. Thus, premium rides assist Uber in earning more money.
3. From Surge Pricing
With the higher demands for cabs, Uber raises its fares based on the surge price calculation algorithm. Besides, some drivers move intentionally to the high surge area to earn extra .
The concept of surge pricing helps to manage the mismatch of the demand-supply process effectively. Besides earning more money, Uber ensures the customers get served at their most needed times.
4. From Cancellation Fees
In case the passenger cancels the ride after a certain time-frame, let's say after 5 minutes, and then he/she is charged with the cancellation fees. This concept is also one of the ways how Uber earns money.
5. From Vehicle Leasing Fee
As the business model of Uber carries out a vehicle leasing fee, its drivers have to pay a security deposit for the vehicle. This payment is automatically deducted from the driver's earnings every week.
6. From Brand Promotion & Advertising
As Uber has millions of active users, it is also a great platform for advertising and brand promotion. Uber app interface incorporates a style layout for such contents and it may become stronger in the coming years.
7. From New Business Verticals
As mentioned earlier, Uber has now become much more than just a cab service provider. It has built other new businesses that have the intensive potential to generate quality revenues. Two of the most popular businesses are Uber Eats and Uber Freights

7.1. UberEats
Launched as a separate application in 2016, Uber Eats is one of the most popular on-demand food delivery platforms that is gaining immense popularity day by day. The application is assisting a lot in generating quality revenue for the company.

7.2. Uber Freight
Launched in 2017, Uber Freight is an on-demand trucking application to connect shippers with the carriers seamlessly. The revenue opportunities for this platform are also increasing day by day.
What Should Entrepreneurs Learn From Uber's Business Model
Undoubtedly, Uber has seen a lot of challenges over the years and tackled most of them. It has become a pioneering on-demand platform today and brought a revolutionary movement in the world of the taxi/cab industry.
Thanks to its novel business model as well as its smart execution processes –we can learn a lot to achieve success and fame as Uber. Let's take a look at some of the key takeaways!
1. Find Solutions For Real-World Problems
If you want to augment the number of times your app is installed, you cannot neglect the power of referral marketing! Being an entrepreneur, you must be able to identify real-world problems and leverage the benefits of technology to solve them. Just like Uber used smartphone technology to increase the quality of its on-demand transportation services, you should also figure out what technology can change the whole phiz of your business.
2. Focus On Scalability
To sustain its market for a longer time, Uber has built a scalable business model. The Uber platform is designed in a way to expand to new markets and to serve multiple users at the same time. So, always focus on creating a scalable business model that can serve you with higher growth scopes.
3. Keep Advancing & Innovating
The founders of Uber were very well aware of the fact that the competition will become tougher over time and the only way to survive it is through regular product innovations. Therefore, Uber kept on adding new features to their driver and passenger apps, continued following different marketing approaches, kept on investing in the latest technologies, and much more. So, just keep innovating your business like that.
4. Keep Your Initial Costs Low
Running a tech startup can prove costly for you. You will need a skilled workforce and various technologies to make a mark in the industry. That's why always take a partnership with a third party technology development company in your initial stages to cut off the costs.
How much does it cost to develop a taxi app like Uber
The cost is calculated based on the UI design of the app, the features used, other requirements, and testing of the app. If you want to develop apps for Android and iOS it might cost around USD$6000 to USD$12000. Most of the food-delivery apps work for Android as well as iOS smartphones. The cost of mobile app developers could range between USD$50 to USD$100 per hour If you need a web app for your taxi business, you additionally need USD$1000 to USD$2000. The is an approximate cost of taxi app development.
App Store annual fee USD$99.
Google app store charges a one-time fee USD$25.
App hosting USD$99 or more depending on the hosting package used.
Development fee between USD$6000 to USD$12000
Conclusion
It wouldn't be wrong to say that the drastic changes in the on-demand transportation and logistics industry owe a lot to Uber. Many on-demand startups have been launched after taking inspiration from the success of Uber business model.
We hope that this detailed analysis of Uber's business model will lend a helping hand for your on-demand startups and will bring you extensive positive results for your upcoming business.
Looking out to start your own venture like Uber? Try HireMe, the easiest way to kick-start your taxi business.