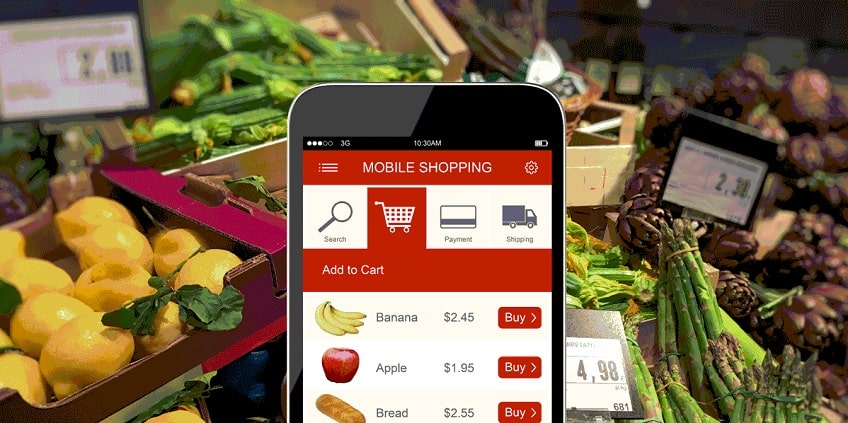 In this digital world, there is a mobile application for every purpose; everyone is slowly getting accustomed to window shopping for all kinds of products and services. While most of the people seem to enjoy shopping, but the task of buying daily essentials is quite tedious. To provide grocery shoppers with a more comfortable experience, On-demand Grocery Delivery App came into the scene.
Initially, the grocery delivery segment was the least explored among all other sorts of products and eventually became one of the fastest-growing sectors in the industry. Several multinational organizations were quick to grab this opportunity and roll out their grocery delivery application in various parts of the world. The popularity of on-demand grocery delivery app also encouraged small scale retailers to have their application for grocery delivery. This technology not only gives the customers more comfort but also allowed the businesses to cater to the needs of a larger customer base.

The following are there different types of mobile applications for on-demand grocery delivery.
E-commerce grocery application
Grocery delivery applications provide customers to explore a wide range of products from anywhere in the world. Potential customers can schedule the delivery timing as per their convenience, which is one of the primary reasons for the huge popularity of e-commerce applications like Flipkart, Amazon, etc.
Grocery application for Independent stores
A huge number of small scale retailers dealing in grocery products have integrated personalized mobile applications to give their customers a better shopping experience.

Through the application, customers can create personalized grocery lists which day share with the store. Some of the most prominent examples of stand-alone grocery applications are growers and bigbasket.
In-store grocery delivery application
Various supermarkets have also taken to this model of selling daily essentials; they usually use a combination of e-commerce and independent grocery delivery app for engaging more customers, giving them a completely new experience.
Applications for aggregators
On-demand Grocery Delivery App comprises a list of all the stores selling grocery items in a specific region. Customers can choose their preferred store based on the location, product, delivery location, and quantity of items. After the order is confirmed, the customer will be able to track the order in real-time until it is delivered.
Application for grocery chains
Large scale grocery chains like Walmart have developed their on-demand mobile application to provide their customers with greater levels of comfort. The interface of these applications is similar to those used by small music retailers for managing their operations.

If you are looking to have your grocery delivery app, here is a list of some of the must-have features of on-demand grocery delivery app.
Quick and easy registration
The very first thing to consider for application is the user-friendly and simple registration process, registration using social media login is one of the most popular modes nowadays. Other alternatives for registration include using email id or mobile number. Users logged in using their social media accounts to get the option of sharing offers that turns into a good advertising opportunity for the company.
Product listing
It is one of the essential features of every grocery development app; care should be taken to sort the different accordingly so that the buyers mind it easier to browse through the categories. Every product must contain a comprehensive description that will help the buyers to make the right choice for themselves.
Product recommendation
Product recommendation is one of the key features of every shopping site. It makes use of previous search history and purchase history of the user for recommending similar products at the bottom of the list. When a grocery delivery app gets the feature, the customer feels more engaged and gets to browse through specific products they are looking for. 
Quick Shopping list
If a potential buyer is unable to search for the product that he is looking for, it will decrease the popularity of the application significantly. Including a quick list in the development process of the grocery, the app helps in giving customers a better experience. You can also be considered including additional features like a favorite list, reminder list, barcode list, and much more.
Search option
It is one of the essential features that play a crucial role in engaging more customers. If customers can conveniently search for products, they need there are more chances of repeat business from the same buyer. Along with the search options, Grocery Delivery App Development can consider adding customize filters, which make it even easier for the users to reach their choice of product faster. 
Option for scheduling delivery
Buyers can pick a delivery date of their order at the time of check out. They can check the estimated time of delivery and every stage of the delivery process. 
Tracking feature
Real-time GPS tracking is a standard feature across all E-Commerce applications today. This must-have feature allows customers to keep track of their order delivery in real-time from the time of dispatch till delivery.
Repeat order feature
This feature helps the customers reorder daily essentials they have already ordered in the past from their account with just a simple click. This simple feature enhances the usability of the grocery delivery app and keeps the customer engaged. 
Discount coupons
Shoppers who are accustomed to online shopping are always on the lookout for exciting offers and rebates. On-demand grocery delivery apps include this feature capable of attracting more customers easily. A customer always believes that discount coupons will help them to make better savings on grocery bills. Here the trick is to make the offer look attractive enough for the customer rather than giving high discounts.
Good quality images
To ensure a rich shopping experience, it is always a good idea to make use of high-quality 3D images of actual products. Its significance increases the appeal of the product and makes the customer feel more connected with what they are buying. Good pictures also enhance the trust factor as buyers are sure of what they are buying.
Different types of payment option
Developers of e-commerce websites always need to ensure that they incorporate a secure multi-directional payment option that will provide options like cash on delivery, card payment, and mobile wallet. This will make the process a lot more hassle-free for the customers if the app integrates various payment gateways it will be much easier for individuals to make payments as per their convenience. 
Reminders for the monthly shopping list
Grocery Delivery App Development includes a simple notification option that will provide a list of monthly grocery shopping that needs to be done. Reminders in the form of push notifications always help customers to remember their grocery shopping list. 
Shopping list share feature
This feature will help the users to share their shopping list with other customers; it is particularly useful when customers need to share the shopping list with family and friends.

The growth of a grocery delivery app is dependent upon a large number of factors but will surely help you in developing an app that will stand out in this competitive market.