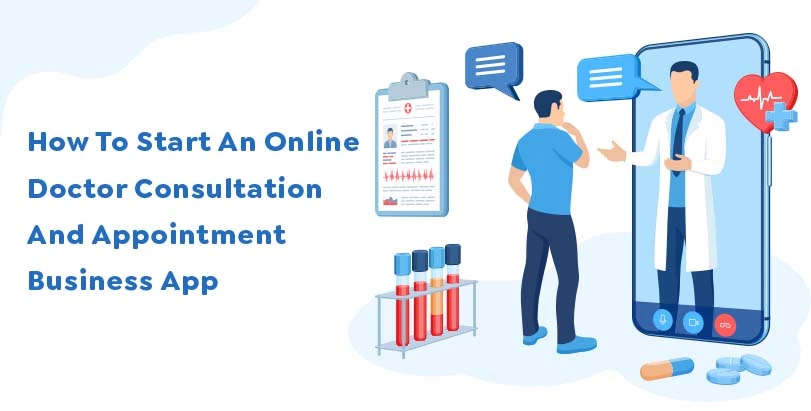 Since online platforms have started gaining significant traction, consultation services are now in huge demand for different sectors on an international level.
And the medical industry is one of the mushrooming sectors!
On-demand doctor app services are growing and may offer many benefits to both patients and medical professionals, from booking an appointment to ordering medicines. Thus more and more entrepreneurs are looking to embrace the trend to bridge the gap between patients and doctors.
Did you know?
The market for mobile health solutions is expected to reach $90.50 billion by 2022.
But the question is still intact- How to Start an Online Doctor App Development?
Before heading to the answers, let's discuss the reasons to consider the online doctor app!
Features of Doctor Appointment App Development
The demand for doctors is always expected to rise, but surviving could be a potentially daunting task as in today's cutthroat competitive landscape. Thanks to technology- there are ways through which patients can consult their doctor without visiting the clinic.
Let's discuss the features of the on-demand doctor app.
1. Booking an Appointment
One of the striking features of the app is the in-app appointment booking. Patients can check whether the doctor is available or not and book an appointment as per their preferred timing using their smartphones/tablets/iPads.
On the other hand, doctors can easily view the appointments and have the flexibility to either accept/reject the appointment. Also, they can even reschedule the appointment.
2. Live Video Consultation
A doctor and the patient can easily make a video call with a dedicated on-demand doctor app. Doctors may easily evaluate their patient's overall condition and communicate and interact with them, offering the best medical assistance.
3. Digital Prescription
While examining patients' health, doctors may easily provide digital prescriptions. And most importantly, the data is secured between both parties. After prescribing the medicines, patients can easily connect with their doctors in case of a medical emergency.
4. Payment Gateway Integration
Through built-in secured payment gateways, doctors can receive payments from the patients. Some of the hassle-free payment methods include credit/debit cards, e-wallet, etc. Opting for these options will provide flexibility to both patients and doctors.
5. Online Prescription Management
Under the feature, the doctor may easily inform users about their prescription drugs include instructions, drug interaction, and side effects. This would undoubtedly offer seamless convenience to both patients and doctors.
How to Build On-Demand Doctor App for Your Business?
There's no denying that creating an online doctor app development requires extensive research and proper planning. And a business needs to preplan everything from conceptualization to implementation.
1. Going for the Research: Ensure you conduct proper research adhering to different aspects, including the current and expected current trends, target audience, market worth, and need for the project. While performing the research, you should have a focused vision.
2. Figuring out the features: Always keep in mind that the features you will include in your app will determine the success rate of your app. Make sure you focus on the features that are helpful for both patients and doctors and, most importantly, must come under your budget.
3. Monetizing the Platform: When you configure your app with advanced monetizing options will let you gain a significant return on investment. Don't know how to do it? If so, choose the right doctor app development company that can help you build a robust, scalable, and efficient on-demand doctor app for your business.
4. App Designing and Development: When it comes to influencing user engagement and appeal, app development and design play a vital role. A beautiful and responsive app can only be crafted with the proper coordination between the designing and development team.
Note: Make sure you don't stuff your app with unnecessary features.
5. Creating a network of doctors: Once you are done building your app, you need to create a dedicated team of doctors for patients to consult with your doctor so they can consult.
Also Read: SUPERCHARGE YOUR PHARMACY BUSINESS WITH OUR ON-DEMAND MEDICINE DELIVERY APP
How Much Does It Cost to Develop an On-Demand Medical Consultation App?
To help patients to connect with thousands of doctors and wellness experts on the go, on-demand doctor apps have become an inevitable solution. The cost of medical consultation mainly depends on several factors, such as:
App complexity
Hourly rates
Business requirements
Number of platforms
Technology stack
CONCLUSION
So, that's a wrap up to "Starting an Online Doctor Consultation & Appointment Business App"!
When you incorporate such features in your app, you are likely to triumph over your competitors. Also, you can lead your business ahead by prioritizing the online market to make your app stand above the rest.
Looking for the best on-demand doctor app development company? If so, your search ends here!
Appicial Applications is a leading web and mobile app development company that offers the best on-demand doctor app development solutions with excellent frontend and backend development along with CMS development and E-commerce development. Our dedicated crew of mobile app developers is specialized in website designing, mobile app designing, web application development with friendly UI and UX without breaking your bank.
To learn more about on-demand app development, visit www.appicial.com and make a lucrative investment today!