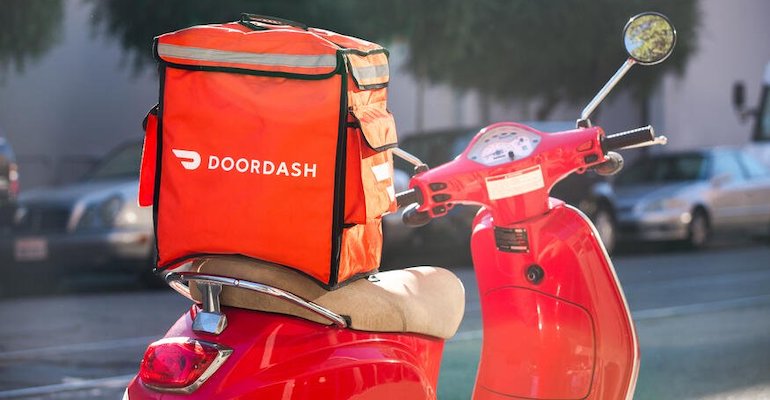 What is DoorDash?
With an aim to delivering the best of the best logistics services to its customers, DoorDash has gained a robust foothold on the on-demand food delivery market. In just a short time, the company has counted among some of the best food delivery businesses and has even acquired some of the renowned corporate giants, namely Rickshaw, lvl5, Caviar, and Scotty Labs.
And this significant traction has attracted investors and entrepreneurs to show an interest in the DoorDash business model.
Facts & Timeline of DoorDash
Here are the facts and timeline of DoorDash. Let's take a look at them!
Year of Foundation: July 2013
CEO : Tony Xu
Founders: Andy Fang, Tony Xu, Evan Moore, Stanley Tang
Type of business: Privately held company
Headquarters: Rialto Building, San Francisco, California, U.S.
DoorDash net worth: More than $700M
DoorDash total valuation: More than $12.6 B
Number of employees: More than 7,500
DoorDash Successful Timeline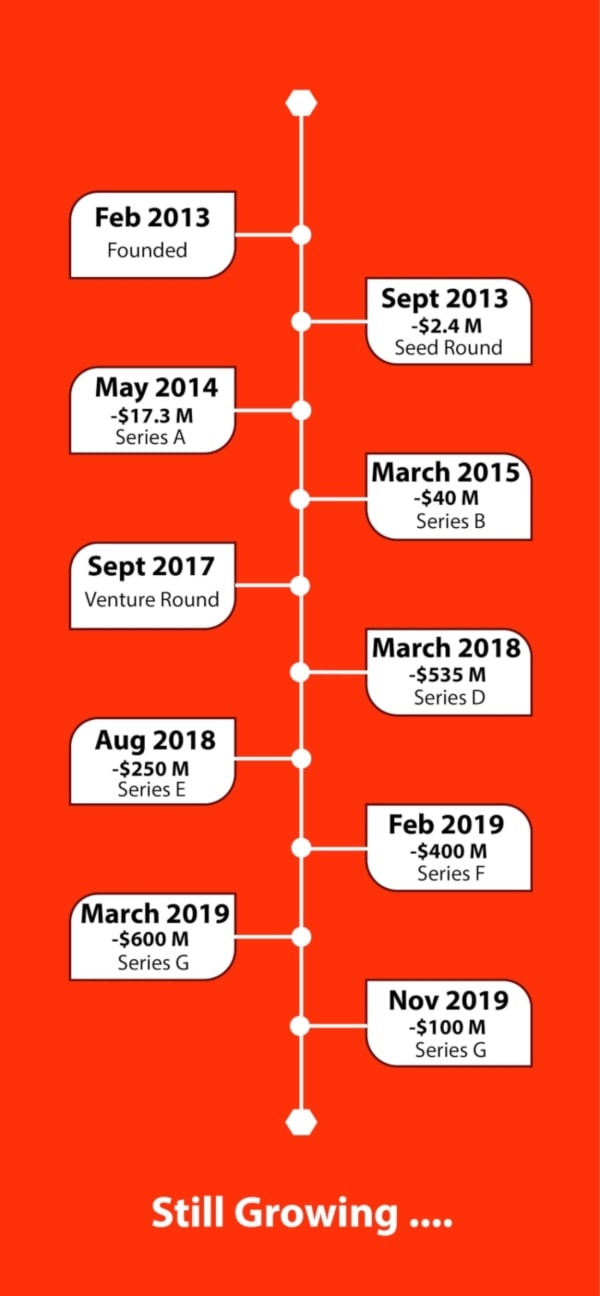 DoorDash Business Model
DoorDash acts as an integrator between restaurants and customers who want to order food online. It also provides employment for those looking for a full-time/part-time job.
Therefore, the customer segments associated with the DoorDash business model are:
1. Users
Due to lack of time, people cannot cook.
For professionals who can't prepare and take lunch to the office because time is the constraint.
For students who don't have ample space to prepare their meals.
For people who don't know how to prepare their meals.
2. Restaurants
Food joints that do not provide delivery service.
Restaurants with no seating arrangements.
New restaurants looking to gain customers.
Eateries looking for advertising and marketing.
3. Dashers
People looking for employment (part-time or full-time).
People looking to earn a good income.
Key Features of DoorDash
Here are the features that you must include in your DoorDash Clone food delivery app.
1. Login & Registration
You can easily create your profile by providing some necessary information. However, if you don't even want to do that, you can sign up just by using your social media accounts such as Facebook, Twitter, etc. This means that you need to take the hassling process of signing up with email IDs or phone numbers.
2. Smart Search For Restaurants
The application provides its customers with options of either automatic searching or manual searching of various restaurants. One can find the nearest restaurants on the platform based on the location as well as the category. One can also search for the restaurants manually from where he/she specifically wants to order food.
3. Top Menus
To make it easy as well as efficient, DoorDash exhibits the top menu section. In this section, popular dishes of a restaurant are displayed, thus helping the customers to easily choose among the food options. These menus can change regularly on the basis of the availability of the item or specialty of the day.
4. Customers Can Give Instructions
Yes! This is one of the best features of DoorDash. Everybody has different tastes and preferences when it comes to food. Some people prefer hot spicy dishes, whereas some prefer less spicy meals. Some like to take more sweets, while some might not even look at them. Therefore, in these cases, DoorDash allows its customers to give instructions to the restaurant as per their desires. These instructions go along with the order placed by the customer and are followed by the restaurant primarily.
5. Be In Contact With The Drivery agent
The moment your order is placed in the restaurant, all the information regarding your order such as the drivery agent's number, estimated delivery time, etc. will be shared with you. You can make a call to the driver to guide him in reaching your location. This feature allows the customers to have a hassle-free delivery experience from the restaurant.
6. On-Time Delivery At Your Door Steps
DoorDash makes its customers happy by keeping the promises that it makes. All customers expect from any brand to meet the promised delivery date and DoorDash ensures to meet such expectations. There is no doubt in the reliability of delivery as well as better collaboration with the customers on this platform.
7. Favorite Your Restaurants
Many people find some of the restaurants very good in terms of quality and taste. Therefore, it is more likely that they will order from the same restaurant the next time. Keeping this thing in mind, DoorDash allows its users to favorite their restaurants so that they can order easily in the future from the same restaurants.
8. Multiple Accessibility Options
You can access the platform of DoorDash by using its website, android applications, or iPhone applications. Therefore, there is no need to just stuck up with one type of device in order to use the DoorDash.
9. Discount Offers
Who doesn't love discounts? DoorDash specifically takes care of this feature where the admin can send promo offers or coupon codes to its customers. You can get it through E-mails, SMS, etc. By using such offers, you can get a discount on your orders.
10. The Bootstrap Design
One of the remarkable features of the DoorDash App is its Bootstrap Design, which makes the platform quite faster and easier to use. Moreover, it can be used in all types of devices and can be used by any person, no matter how less-skilled he/she is.
Working of DoorDash : How DoorDash Works
Let's have a look at the steps that will help you to learn how DoorDash works, if you are a user, restaurant, or delivery agent: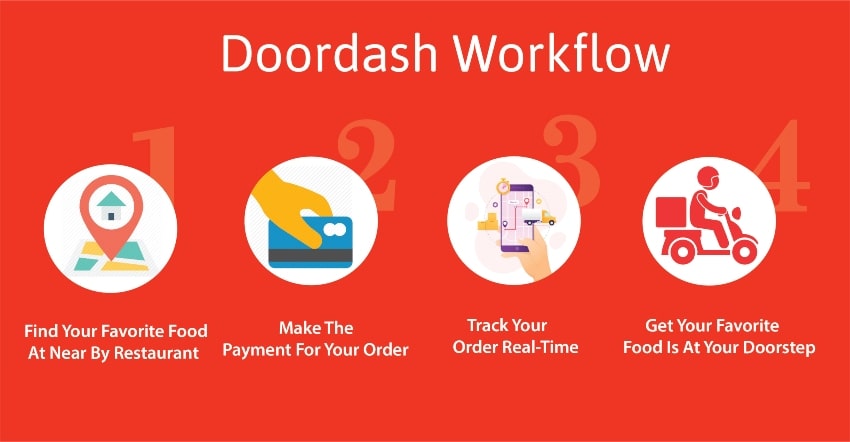 Step 1: Search
This will help you browse through a multitude of options for their preferred food. The search can be filtered as per the requirement of the customer. Also, users will get the facility to select favorite restaurants to make it easier for users to order their food next time.
Step 2: Payment
Users can pay for their meal by using the app, making it easier for them to order in just a few minutes. After making the payment, the order will be sent to the respective restaurants and then the food will be prepared.

"The delivery charge of DoorDash will be decided by the distance between the pickup and drop off points".
Step 3: Track Your order
In this step, the food will be packaged from the joint and send for delivery. Also, users can track the order to provide hassle-free tracking of the order. For the convenience of the user, this feature was built into the application.
Step 4: Delivery
The delivery agent delivered your favorite food is at your doorstep in minutes. During the payment process, the DoorDash delivery fee has already been paid. Customers, however, can even pay the tip to the delivery agent.
DoorDash Revenue Model: How DoorDash Makes Money
1. Commissions
DoorDash delivers the food from restaurants to the customers. If a user chooses a restaurant, then it earns a 20% commission from the restaurants on each order.
2. Delivery Fee
It is nothing but an important source of income for DoorDash users. During the payment process, the amount is decided as per the distance from the pickup to the final destination. The delivery charges, however, range from $5 to $8.
3. Advertising
If a restaurant looking to gain traction by advertising themselves on the DoorDash app must pay to be ranked on the top. This will significantly increase the visibility of the restaurants and earn more customers.
How DoorDash benefits Foodies, Restaurants, and Delivery Agents?
Customer satisfaction is something that every business must focus on to stand out from the rest. If you're a business, then make sure you provide a multitude of products and services to the customers while catering to their budget and needs.
So, now the question arises-how does DoorDash work?
The On-demand food delivery brand comes with a range of exclusive features that have made DoorDash business and revenue model popular among all:
It will benefit each segment.
The delivery agents at DoorDash are also known as "Dashers".
The delivery fee of DoorDash is $5 to $8 for the users.
The revenue of DoorDash comes from a 20% commission fee charged from the merchants.
The delivery agents of "Dashers" make more than $600 in one year.
DoorDash operates across 340,000 stores in the USA and Canada and more than 4,000 cities.
After seeing the success of a business model like DoorDash, many online food services like Zomato, Swiggy, Foodpanda, UberEats, Just Eat, etc. have started serving in India. The apps of these Indian companies will not only allow customers to order food but also find the ideal restaurant for the right occasion.
How much does it cost to develop a food delivery app like DoorDash
The cost is calculated based on the UI design of the app, the features used, other requirements, and testing of the app. If you want to develop apps for Android and iOS it might cost around USD$6000 to USD$12000. Most of the food-delivery apps work for Android as well as iOS smartphones. The cost of mobile app developers could range between USD$50 to USD$100 per hour. If you need a web app for your restaurant, you additionally need USD$1000 to USD$2000. The is an approximate cost of food delivery app development.
App Store annual fee USD$99.
Google app store charges a one-time fee USD$25.
App hosting USD$99 or more depending on the hosting package used.
Development fee between USD$6000 to USD$12000
Conclusion
So, that's a wrap up to the DoorDash business model & it's working!
Developing such an app will certainly skyrocket your business to an unprecedented scale!
Now the question is- Are you looking for the best mobile app development company in India to build your DoorDash app? If so, you've reached the correct destination!
Appicial Applications is one of the best mobile app development companies in India that has completed more than 250+ projects of global clients about food delivery only. We have a dexterous crew of dedicated mobile developers who provide comprehensive mobile application development services in a stipulated time frame without breaking your bank.
Now the question is- Are you looking for the best mobile app development company in India to build your DoorDash app? If so, you've reached the correct destination!
Looking out to start your own venture like DoorDash? Try MasalaDish, the easiest way to kick-start your food delivery business.