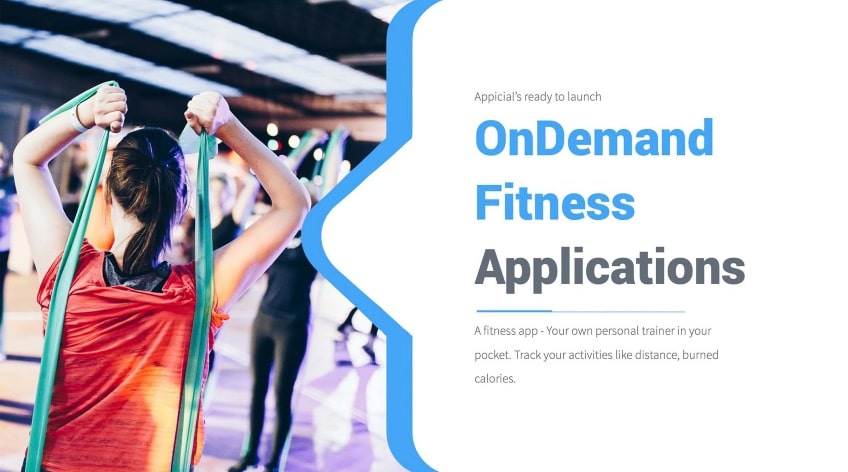 I'll hit the gym on Monday!
Well, everybody does that but nobody does work out!
If you're tired of saying the phrase "from next Monday" and consequently, end up sleeping more or partying Sunday night, right?
And whether you like it or not, you're one of them!!
This problem has now sorted out to a great extent- Thanks to Technology / Fitness app development company. Because people are now glued to their smartphones, fitness apps have become their gym trainer / instructor.
Did you know?
The use of health and on-demand fitness app has significantly increased by over 300% in the past 3 years, as per the recent research.
Before heading to the ways to create the best fitness app to achieve your goals, let's discuss its features:
Features of On Demand Fitness App
Here are the features that you must include in your fitness app.
1. Hassle-Free Login / Register
When any first-time user downloads your mobile app, ask them to create their account with social media accounts or make the entire sign-up process short and simple.
2. Ask to Create a User Profile
Once they are done with the sign-up process, ask them to input their details like age, weight, height, about fitness goals, types of workouts, and many more.
3. Social Media Integration
Your on-demand fitness app should be integrated into social media from signing up to sharing fitness-related information. This would help boost online engagement for your application.
4. Chat Option
When it comes to fitness app development, your mobile app should have a chat option that would let your customers to easily connect with their respective gym trainer and customized workout music. Incorporate these kinds of features could make your app popular among a huge audience.
5. Video Tutorials
One of the best things about video tutorials is that they would help fitness enthusiasts to understand the concept workout from scratch. Video tutorials also demonstrate the ideal way to do a particular exercise.
Tips to Consider for the Fitness App Development
If you are looking to develop an on-demand fitness app, make sure you follow these tips:
Fitness App Development
When you're choosing the right fitness app development company, ensure that their team of developers should have hands-on experience on both Android and iOS developers.
Now, you might be wondering why you need designers.
There are chances that your fitness app may have the best code but when it comes to looking beautiful, it'll likely fall behind. Hence, you need to experience UX/UI designers who would take care of colors, fonts, logos, and other crucial elements.
Before creating an on-demand fitness app, you need to pick its type. Fitness app provides its customers with a multitude of features, including monitoring, motivation, and socializing on different health issues.
Mobile App Testing and Support
When you choose the right fitness app development company, they would test the app against each possible combination and examine it without errors.
Because they have experienced testers, the app doesn't need frequent upgrades against error fixing. And one of the best things about a professional company is that they have a support team that would monitor the performance of the fitness app by adding additional capabilities.
Fitness Apps Features
Don't forget to include features like user profiles, push notifications, social sharing, live location, etc.
Workout Application Development
If you are launching an app for Android and iOS, you'll need at least three developers, iOS and Android mobile app developers as well as a backend developer.
How to Turn Your Fitness App into Your Brand
Well, you could easily do it with monetization!!
Some monetization versions are ads and e-commerce. Adding the attribute of e-commerce to market fitness products may be rewarding. You could also earn by sponsoring fitness equipment, supplements, and other nutritional products.
And the fact of the matter is that there would no exact cost for developing a health physical fitness app. When it comes to fitness app development, there are certain aspects involved like period, sophistication, availability of technology, and the cross-platform feature.
Now days, the creation of a fitness or health app is in huge demand and you can easily leverage the opportunity and create your app into a brand. People, these days, are reluctant to go out due to the COVID-19 pandemic.
Creating a health and physical fitness app could be a potentially daunting task. But, it can become a cakewalk when you choose the best fitness development company in India.
Develop Your Own On-Demand Fitness App by choosing the Best Mobile App Development Company
Looking for the best mobile app development company to create an attractive and responsive on-demand fitness app? Appicial Applications may help you out!!
Our experienced mobile app developers provide you the best app development services without breaking your bank. We have successfully delivered a variety of innovative wellness and fitness app development solutions and allowed fitness enthusiasts to get their fitness-related queries resolved within less possible time.